There are quite a few things you need to have a proper gaming setup. One of these things includes a good computer case or cabinet to house the internals like the motherboard, GPU, and RAM. These computer cases also need to have a good cooling system since it will be running some high performance inside. Full-tower cases are highly recommended but they don't come cheap so you can instead go for mid-tower cases which are still good enough and offer a lot of space.
Our ranking criteria
So here's a list of the best mid-tower gaming computer cases.

We take various gaming cabinet features and specifications into account before deciding whether to list them on our website. For example, we look at the type of connectivity they offer, their cable management, mobility, build quality, and aesthetic appeal. Additionally, we also look at the type of fan they use for ventilation and whether they support water cooling systems.
Things to consider before buying gaming cabinet computer cases
Right size
If you're looking for a cabinet that won't take up too much space, you can go for a small-size option if you're building a system based on Intel's 3rd gen. However, if you're a gaming enthusiast, then a mid-tower is a better option as it provides more room for different components, as well as better airflow and thermal management.
Build quality and aesthetic appeal
When it comes to choosing the right computer case for your needs, it's important to consider both the exterior and interior design. Depending on your personal taste, you may prefer a discrete, sleek exterior design or something more flashy and edgy. In addition to looks, it's also important to choose a case made from high-gauge metal for durability. Also, make sure the cabinet body is thick enough to prevent vibration when fans and drives are in operation.
Cooling Support
Your gaming cabinet case needs proper airflow to function at its best. This can be done with either liquid cooling or air cooling, as long as the case has enough room to accommodate the fans. If you are just an average gamer, then a cabinet with support for a single exhaust fan should suffice. However, if you are a hardcore gamer, then you should look for cases with multiple fan support, as they will provide better thermal management and ventilation. Another option is to go for a cabinet that supports a liquid cooling system.
Dust Filters
if you rarely clean your system, say, every six months, then look for a cabinet with dust filter support. Installing a dust filter will do an incredible job of stopping dust from entering the cabinet.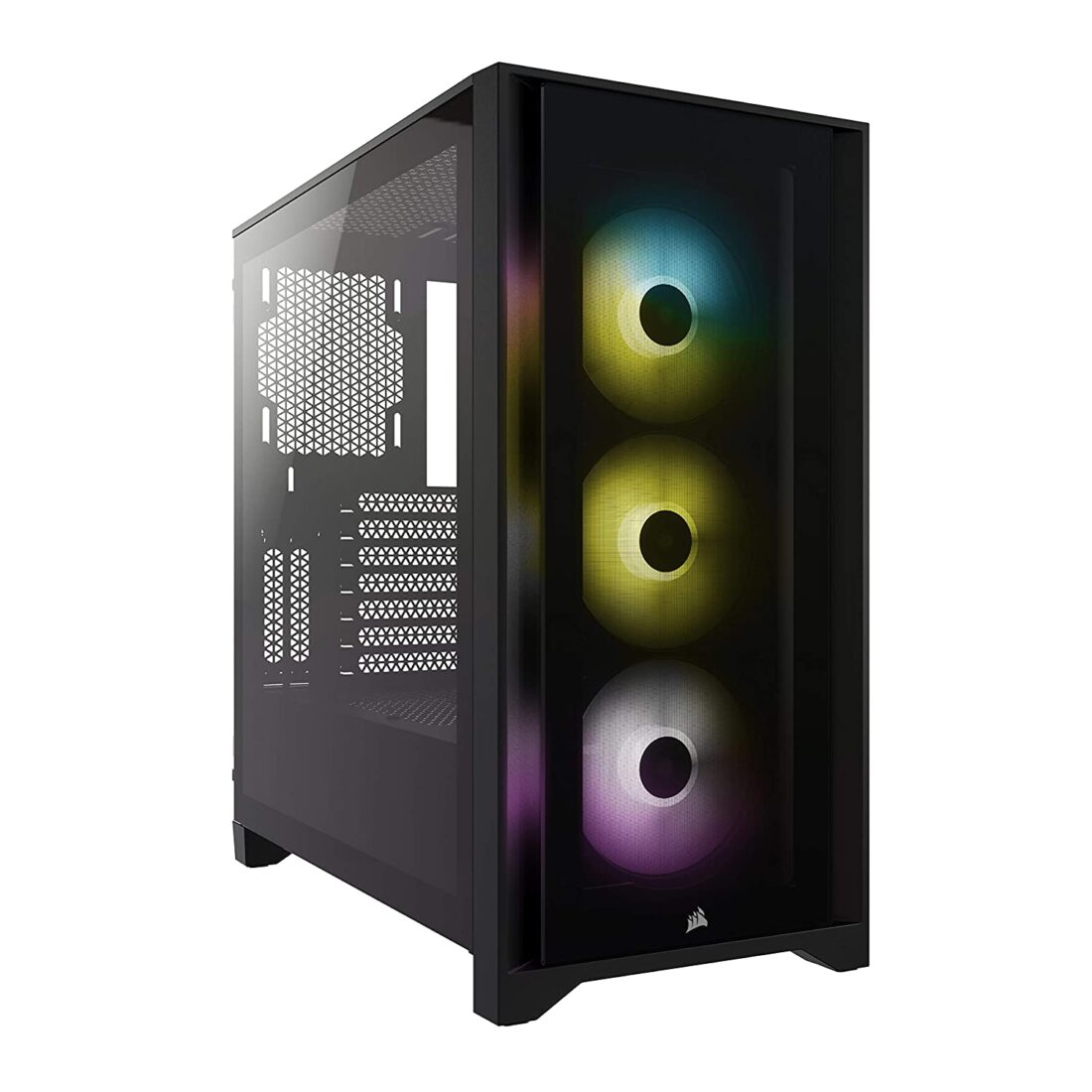 The Corsair Combining stylish tempered glass, customizable RGB lighting, innovative cable management, and concentrated airflow, choose the 4000X RGB for a unique high-performance PC. Show off your components and RGB lighting with tempered glass side and front panels, built with dedicated front ventilation channels for ample airflow. The CORSAIR RapidRoute cable management system makes it simple and fast to build an immaculate, professional-looking system with major cables neatly routed through a single channel, with a roomy 25mm of space behind the motherboard for all of your cables. Includes three CORSAIR 120mm AirGuide RGB fans, utilizing anti-vortex vanes to concentrate airflow and enhance cooling. Each fan is equipped with eight individually addressable RGB LEDs for brilliant customizable lighting. Fully control and synchronize the RGB lighting for up to six fans with the included iCUE Lighting Node CORE and CORSAIR iCUE software.
The Corsair Series 680X mid-tower smart case is another option you can go for. It's a high-airflow mid-tower smart case with three tempered glass panels. It offers a direct airflow path layout so ample air goes to the hottest components. You get three RGB fans in this Corsair computer case, and one SP120 fan included. The RGB lighting can be customized by Corsair's Lighting Node Pro software. There's a dual chamber layout so your drives, cables and PSU are not visible. This computer case has room for up to right 120mm or seven 140mm fans, and four radiators. It also features one USB Type-C port, two Type-A ports, and a 3.5mm headphone jack.
Razer fans can go for this Lian Li PC-OCC Dynamic Razer Edition mid-tower computer case. You can use Razer Synapse 3 to personalize the light effects of this case and more. There are three RGB light strips on the chassis that are controlled with this software. You can also choose between five different lighting modes and 70 individually customizable LEDs. The computer case is built with a combination of glass and brushed aluminum. It supports up to six SSDs and 3HDDs, and the drive caddy can also be swapped for a second PSU. It also has four dust filters and can support up to three 360mm radiators, three 120mm fans, and two 140mm fans.
Antec Striker Mini Tower Gaming Cabinet Aluminium Striker, the ITX open case is the first of its kind, designed for custom water-cooling games characterized by its irregular shape, unique form, and innovative structure, Striker will be a brand-new challenge for experienced modders It is the first open case featuring a front-placed VGA design, ITX form factor, and bold styling Antec Striker will arouse your enthusiasm for extreme gaming. When installing an AIO water cooler or custom water cooler at the left side, users can install 2 x 2.5" SSDs on the rack, which can also cover the cable in the middle
For a more snazzy look, you can go for the Asus ROG Strix Helios GX601 RGB mid-tower computer case. It comes with three tempered glass panels, a brushed aluminum frame and Aura Sync RGB front lighting. It has a multifunctional cover with graphics cardholders, a PSU shroud, and a translucent rear cable cover. You can also install three graphics cards in standard orientation or two of them vertically. It can support up to an EATX motherboard, and 420mm front radiators along with a water-cooling pump and reservoir. You also get removable dust filters on top, front, and underside.